Questions?
1-301-238-5133
Read More About The $1000 Package
This package was made for the brides who long for a small intimate wedding with close friends and family. This package includes the following:
Florals: 1 Bouquet and 1 Boutonniere
Officiant
Wedding Planner and Event Staff: 1 day (4 hours on-site)
Cake
Timeline Meeting: 1-hour meeting to go over the logistics of the day of your wedding
Vendor Consult: 1 hour consult to help steer you in the right direction for vendors
Layout Creation: A bird-eyes view of your layout of your wedding to help visualize the area before the day of your wedding
Rehearsal: Up to 1 hour before the day of your wedding, if needed.
Photographer is NOT included (We will provide a list of preferred vendors)
Read More About The $2950 Package
This package has been put together for brides who are all about the simple life and want their wedding the same way. This package includes the following:
Florals: 1 Bouquet, 1 Boutonniere, and ceremony florals
Catering: Up to 20 guests ($20 per person after 20 guests)
Officiant
Wedding Planner and Event Staff: 1 day (8 hours on-site)
Linens: White, Ivory, Black, Blush or Navy
Cake
Rehearsal: 1 hour before the day of your wedding
Vendor Consult: 1 hour consult to help steer you in the right direction for vendors
Timeline Meeting: 1-hour meeting to go over the logistics of the day of your wedding
Layout Creation: A bird-eyes view of your layout of your wedding to help visualize the area before the day of your wedding
Bluetooth Speaker for Music
Photographer is NOT included (We will provide a list of preferred vendors)
Read More About The $2300 Package
This package is intended for church gatherings, corporate retreats and family reunions. This package includes the following:
Florals: 1 Bouquet and 1 Boutonniere
Linens: White, Ivory, Black, Blush or Navy
Banner/Signage/Décor
Catering: Up to 40 guests (Add $20 per person over 40 guests)
Cake
Event Planner and Event Staff: 10 hours on site
Officiant
Bluetooth Speaker for Music
Vendor Consult: 1 hour consult to help steer you in the right direction for vendors
Layout Creation: A bird-eyes view of your layout of your wedding to help visualize the area before the day of your wedding
Photographer is NOT included (We will provide a list of preferred vendors)
Read More About The $4250 Package
This package is for our brides who don't want the worry about finding the small details and would love for a professional to take it off her hands. This package includes the following:
DJ: 4 hours of play time
Florals: Bridal Bouquet, Wedding Party Bouquets & boutonnieres, centerpieces, and ceremony florals included
Linens: White, Ivory, Black, Blush or Navy
Décor
Catering: For up to 40 guests (Add $20 per person if over 40 guests)
Officiant
Wedding Planner and Event Staff (10 hours on site)
Cake
Rehearsal: 1 hour before the day of your wedding
Vendor Consult: 1 hour consult to help steer you in the right direction for vendors
Accommodations list: List of hotels/things to do in the area
Bride Guide: 10-page planning booklet to help with planning of your wedding
Timeline Meeting: 1-hour meeting to go over the logistics of the day of your wedding
Layout Creation: A bird-eyes view of your layout of your wedding to help visualize the area before the day of your wedding
Photographer is NOT included (We will provide a list of preferred vendors)
Summary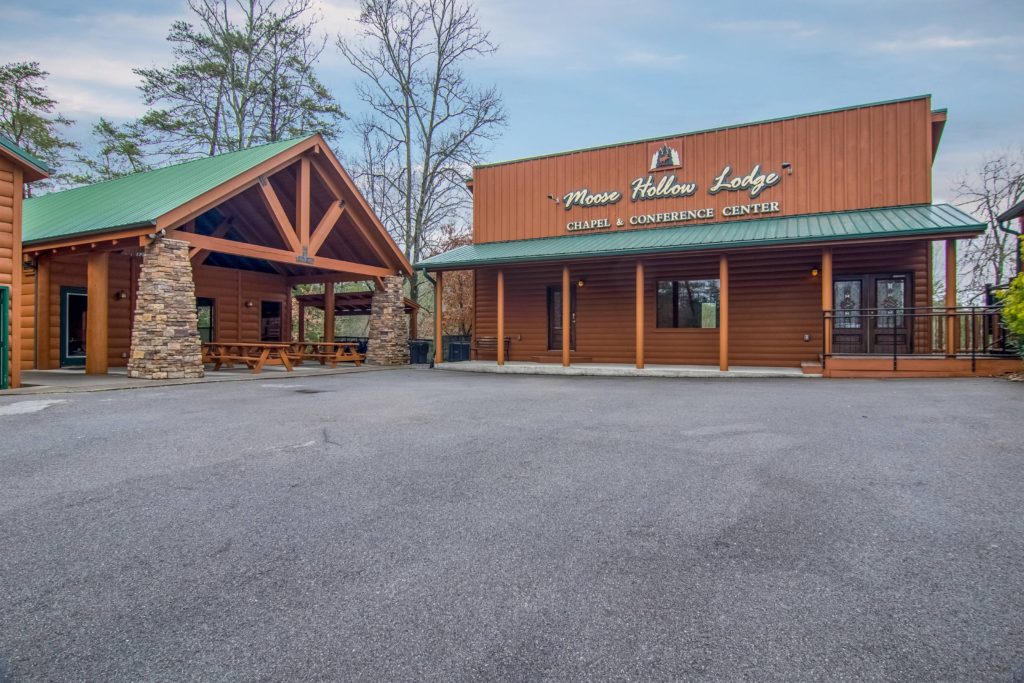 Article Name
Description
Moose Hollow Lodge Reviews Of Our Pigeon Forge Cabin
Author
Publisher Name
Publisher Logo